What is your smile saying about you? If you are missing a tooth, multiple teeth, or suffer from severe damage or decay, it's probably not sending the message you want it to and may even result in anxiety or embarrassment. Our compassionate Dupont Family Dentistry team understands, and we have a solution for you with dental implants. We perform dental implant restoration in-house.
---
Advanced implant technology has led to the development of full-arched fixed dental bridges like All-on-4. All the teeth in the mouth are supported on four dental implants, a rehabilitative surgery that replaces teeth for edentulous (without teeth) patients or for those who have decayed or compromised teeth due to severe gum disease or injury.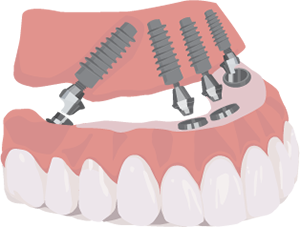 ---
If you have lost most or all of your natural teeth due to decay or injury, or are fed up and embarrassed by dentures that rock and slip, Dr. Diehl at Dupont Family Dentistry has a solid solution for you. Implant supported dentures not only give you a beautiful new smile and sense of confidence; they help to preserve your oral and facial health and allow you to get back to living your life – without worrying about your teeth.
---
The newest way to create dentures! Let's face it; your current dentures are old and worn out, and you're overdue for a new set of replacement dentures. It's now time for that replacement set. Today is the day.
---
If you're missing one tooth or several teeth, Dupont Family Dentistry can help get your smile back to optimal form and function with dental bridges or partial dentures, which can replace absent teeth securely. Bridges and partials also blend well with your natural teeth.
Missing teeth don't just affect your smile's appearance, they can be detrimental to your overall health— increasing risk of chronic gum disease and the 50+ systemic medical conditions to which untreated gum disease can lead.
If you have any questions about the different tooth replacement solutions we offer, please don't hesitate to contact us at Dupont Family Dentistry today to schedule a consultation.
View Accessibility Options